Welcome to NAME...
We are glad you came to visit. We do MINIATURES, as "in scale" versions of any and everything in real life.
Interested in assisting NAME in it's mission of promoting miniatures as a hobby? Here are a couple of ways you can help:

You can make a donation directly to NAME by clicking this button:

Or


The Amazon.com Smile program donates %0.5 percent of purchases made through the program to the non-profit of your choosing.
To use it, simply click the link above (log in to your Amazon account if you aren't already) and search for "National Association of Miniature Enthusiasts, Carmel, IN" click "Select" on the first item in the resulting list. Then go on shopping at Amazon as you normally would, it is all automatic from there on.
Greenville Small-Scale Houseparty Public Day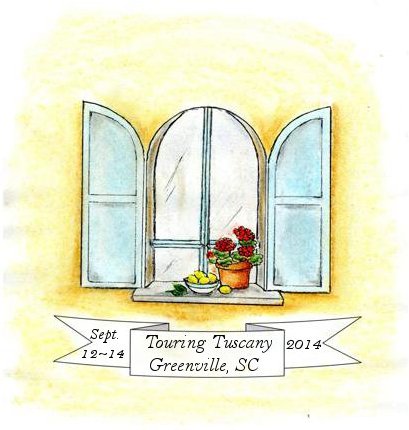 Touring Tuscany
Thank you to everyone who attended Touring Tuscany. We thoroughly enjoyed being your Tour Guides during your visit. We were thrilled that so many of our workshop and roundtable instructors submitted workshops to go along with the theme and we thank you. To the dealers who participated in our last minute special shopping spree we would like to say a very special thank you.
Congratulations to the lucky winners of our centerpiece (pictures here).

It was sad saying goodbye to everyone, but we will see you again soon for Gals, Gangsters & Gatsby!
                                                                                                                              Touring Tuscany Steering Committee
Online Auctions - Are Now Here and In Progress!
Over the past year, NAME has been holding Online Auctions to disburse some of the many donations we have received through our Estate Donation Program. After numerous auctions, the auctions have raised thousands of dollars and put a number of artisan, vintage and collectable miniatures back into the hands of loving miniaturists.

The auctions are an integral part of our Estate Donation program and not only save many treasures but also afford collectors an opportunity to find many items, long out of production or by artisans no longer producing. Our member response has been overwhelming and there have been many bargains to be had. Several signed artisan pieces have sold for a fraction of their retail value. Because of the overwhelming success of the auctions, they have become a regular feature and will be held on a regular basis here on our website.

Membership in NAME is no longer a requirement to participate. All you have to do to get started is click on the Auctions link and register, then you can start bidding. You also have many options for making payments, such as: PayPal, authorize.net (CC's), check, money order, or call the NAME office with your CC info. Many auctions are already in progress, and will be continuous as long as we still have estate merchandise to sell. You can also buy souvenirs from previous conventions and houseparties with the "buy it now" option for those items. NAME logo merchandise is additionally available.
Member's Gallery
One of the newest features of our new website is the Member's Gallery. This is an opportunity for our members to advertise their minis for sale to other members and the general public as well. They do not even have to be items for sale, you can also use this for your personal "show and tell" showcase. We would love to see what all people have made over the years!
The idea is that anyone who wants to be in the Gallery may do so for a nominal monthly fee of $15 for 3 months, or $25 for 6 months. For the fee you will get a business card size ad, which may include information or a picture of your items for sale, and your contact information. You may link to your website of you have one. You do not have to be a full scale retailer, or have a store front or online store. You may specialize in only one item, if you prefer; the choice is yours. This is an exceptional opportunity to reach out to hundreds of potential buyers – or just plain show-off your pride and joy.
Newsletters, Newsletters, Newsletters!!
By Kim Wood, NAME Board of Trustees, Media Liaison
Where do you get your inspiration and ideas for your miniature fun? A variety of places, that is for sure. One place I love to lurk is in our regional newsletters. And I don't just mean my own A3 region.

Did you know that other regional newsletters are not a highly guarded, top-secret publication? Anyone can look at and read them. They are a great way to share information about happenings in the region, but are also wonderful sources for tips and how to's about our hobby. I have found information about special days or weekends taking place in a state right next door, but out of my region, that I would not have known about had I not stalked, ummmm, I mean looked at others' newsletters. And it doesn't just have to be a regional newsletter. Does your club put out a newsletter? Very interesting things are often shared there, too.

So, how do you get your hands on this wonderful wealth of information, you ask? Well, we are trying to make it easier for everyone by placing the information on the NAME website. If you are an editor of your region's newsletter, or if your club produces one, please include our webmaster on your distribution list. The newsletters need to be sent as a Word doc or a PDF file; they will be posted only as PDF files. The webmaster will then make all newsletters easily accessible to the entire membership by just a few clicks of the mouse. The email address is webmaster@miniatures.org, and this is being addressed by Tom Walden, our Board Technology Liaison, and/or Dan Stewart, NAME Webmaster. How simple is that? What an easy way to share so much fun. Remember, only through sharing can we really enjoy our treasures.
Edit -- 8-20-2014
The first regional newsletter has been posted to the website! You can read E-3s regional newsletter here.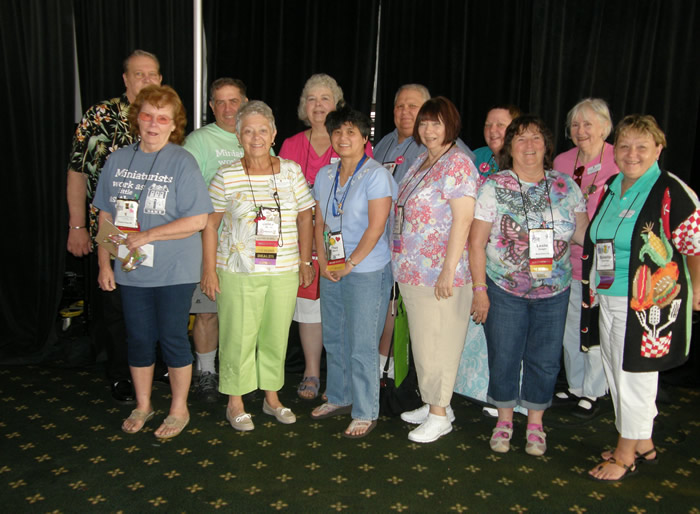 Front row: Luci Hanson, President; Colleen Walker, Conv/HP/RC Liaison; Thuy Means, Special Events Coordinator; Marti Icenogle, Secretary; Leslie Swagger, Club Liaison; Babette Overman, 1st Vice President
Back row: Cary Yerves, Past President; Tom Walden, Technical Liaison; Karla Smith, Communications Liaison; Stan Boyd, Treasurer; Kim Wood, Media Relations Coordinator; Becky Lipscomb, 2nd Vice President
Statement of Purpose:
The National Association of Miniature Enthusiasts (NAME) is a non-profit, educational organization whose purpose is to promote miniatures as a distinct art form, to provide education forums on their construction, historical significance and intrinsic value, to preserve unique collections in a miniature museum open to the public (located in Carmel, IN), and to maintain a mutually beneficial network of collectors, crafters, and artisans.
NAME is proud to be
Photos used with permission. Work by: Tom Walden, Williamson-Walton Marble, Donna Eckel, Lew & Barbara Kummerow, Alice Zinn, Pete Acquisto, Pete & Pam Boorum, Paulette Svec, Pete Acquisto, Nancy Wantiez, Carl Bronsdon
.