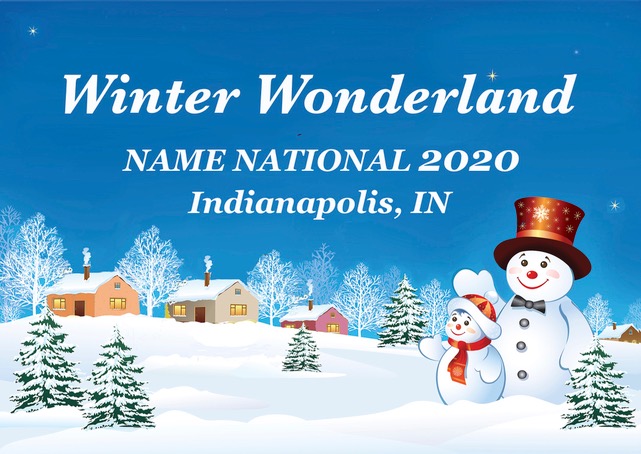 Save The Date:
July 23 – 26, 2020
The calendar may say it is summer, but in July of 2020 in Indianapolis
it is going to be a WINTER WONDERLAND.
Convention Chair: Marti Icenogle, marti.icenogle@gmail.com [1]
Assistant Chair: Kim Wood, gwood14@att.net [2]
---
Calling all Dealers, Workshop Instructors and Theme Luncheon Presenters.
We hope that you are planning to join us at the 2020 National Convention in Indianapolis. And, we wanted to let you know that the application deadline for dealers, instructors, and theme luncheon presenters is Friday, September 6th, 2019.  
Here are links to the applications:
Workshop Application [4] or Fillable PDF Form [5]
Theme Luncheon Application [6] or Fillable PDF Form [7]
And, if you have any problems with these links, you will find the dealer, workshop and theme luncheon applications by logging into the members only part of this website. Once logged in, select Forms and Documents under the Members Section tab. In the Forms and Documents section you will find all the applications under the Convention & Houseparty Applications tab.
If you have any questions, please do not hesitate to contact us.
Sales Room Chairman: Alician Piece, ubfaep@yahoo.com [8]
Workshop Chairman: Karen Barone, kbarone0117@gmail.com [9]
Theme Luncheon Chairman: Janet Smith, desertminis@gmail.com [10]
We hope you will come take a walk with us July 23 - 26, 2020 in our WINTER WONDERLAND.
Committee List
 



Phone




Email




Hosting Chair     Marti Icenogle




317-402-4999






Assistant Chair  Kim Wood




317-502-6961




gwood14@att.net [2]




Centerpieces

 
 



Chair    Cindy McDaniel




765-620-2589






            Latonya Collier

 





Charity

 
 



Chair    Seronia Harris 

 





Door Prizes

 
 



Chair    Kristie Norman




260-782-8013






Exhibits

 
 



Chair    Nancye Claypool




502-714-8559






            Ellen Yunker




502-727-1959




Egy735@gmail.com [16]




Garage Sale

 
 



Chair    Katie Vitullo




412-996-8165




Ktbug55@hotmail.com [17]




            Sue Ann Ketchum




301-253-5864:               






Gold Stars

 
 



Chair    Ginger Anderson




623-385-6193




ginmini@gmail.com [19]




            Helen Sparks




480-277-0951






HP Helpers

 
 



Chair    Lynn Jensen




414-763-4195




L2B2LYLJ@aol.com [21]




            Debbie Love




704-277-0805




rahlove3@yahoo.com [22]




Home Improvement Seminars

 
 



Chair    Luci Hanson




541-479-2354




hansonminis@me.com [23]




Kathy Price




614-755-9712 




price1240@att.net [24]




Hospitality Room

 
 



Chair    Pam Smith




260-856-4356






            Nina Peery




574-536-3313




npeery@yahoo.com [26]




Operations

 
 



 




Chair - TBD

 
 

 




 




            Nick Karatjas

 



n.karatjas@gmail.com [27]

 




Public Day

 
 



Chair    Ann Silverman




614-313-0901




bsilver104@aol.com [28]




            Kris Dunlap




614-595-2887






Publicity

 
 



Chair    Kim Ash




765-620-3295






            Brian Hughes




740-328-7861






Registration

 
 



Chair    Vicky Turner




614-707-9638




vturner940@gmail.com [32]




            Ann Silverman




614-313-0901




bsilver104@aol.com [28]




Round Tables

 
 



Chair    Barbara Thornton Hill




650-380-2028




bathca@gmail.com [33]

 
 
 
 
 
 
 



Salesroom

 
 



Chair    Alician Pierce

Delores Kelley




608-751-1270

847-808-0235




ubfaep@yahoo.com [8]




Souvenir Books

 
 



Chair    Shannon Moore




561-422-2189






Souvenirs

 
 



Chair    Lynn Montgomery

 





            Marion Haerle




336-457-1188




Mhaerl@yahoo.com [37]




Swaps (Mini Exchange)

 
 



Chair    Amy Rauch

 



rauchfam@aol.com [38]




Table Hosts/Hostesses

 
 



Chair    Jean Ellsworth




513-403-8350




jellsworth@fuse.net [39]




            Cindy Mullen




859-227-1631






Thursday Night Event

 
 



Chair    Nancye Claypool




502-714-8559






Theme Luncheons

 
 



Chair    Janet Smith




530-559-1407






Tote Bags

 
 



Chair    Kris Dunlap




614-595-2887






Workshops

 
 



Chair    Karen Barone

Veronica Foreman




561-596-6855

773-330-1082




vfore10414@aol.com [41]




Youth Coordinator

 
 



Chair    Sally Lonn




623-466-8708




sallylonn@gmail.com [42]




            Marcia Beardsley




931-388-8858




dmbeardsley1@aol.com [43]




HP/Convention Advisor

 
 



            Georgia Queen




503-472-2618




Georgiaq@aol.com [44]