2015 Hallmark Ornament Contest Winners
[1]

First Place

[2]

Second Place

[3]

Third Place
Click the photos to open bigger versions.
The 5th NAME Hallmark Ornament Contest has ended. There were 16 unique and interesting entries displaying the diverse and creative talent of our NAME members.
First Place  Winner: Ruth Mason of Columbus, OH for her entry..."Poppies will put them to sleep"
Second Place winner: Vickie Skidmore of Whittier, CA for her entry..."Captain Jack"
Third Place winner: Claudia Heckert of Allyn, WA for her entry "Night Before Christmas"
Honorable mention went to Mary Ciccolella of Watchung, NJ for her entry " Christmas on the Rhine"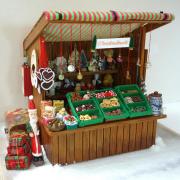 [4]
Congratulations ladies, you all did a wonderful job.
Having the contest coincide with the holidays proved to be a bit hectic so the timing will be changed for the next Hallmark Ornament Contest.
The next Hallmark Ornament Contest will be in 2017. Look for the schedule and entry forms in the November/December issue of the Gazette. The form and schedule will also be posted to the NAME Special Events website atthe same time.
Other entrants were: Carolyn Proctor, Joanne Kelsall, Jeane Stilp, Ginnie Magee, Pat Byers, Joanne Willis, Janice Prescott, Martha Bates, Toni Mast, Polly Hackett-Morey, Sofie Pedersen and Tammy Witthaus. Thank you ladies for your participation.  We look forward to your entries in the next Hallmark Ornament Contest in 2017.
Luci Hanson
Chairman:  Hallmark Ornament Contest